Hong Kong Youth Magic Arts Festival
Posted by Albert Tam in Activity on Mar 16, 2016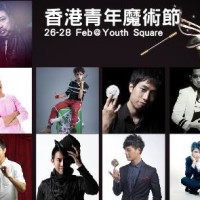 MAHK organized the first HK Youth Magic Arts Festival,  "Magical Encounter‧Unlimited ideas created amazing experience"
The Magic Festival included three theatre magic gala shows, and two Close-up magic gala shows., which are preformed by over 20 youth magic stars. There are special oversea youth creative magicians, Korean champion Choi Cheol-seung and 2015 Asian Stage Magic Champion Alexander from Indonesia.
There are magic workshops by young master magicians Bond Lee, Micky Wong and Jo Jo Cheung of mainland China., and special lecture by Hong Kong master magician Albert Tam in explore Magic Arts.
MAHK also organized the first "Hong Kong Teen Magic Wiz Contest" for teen age magic lovers from age 11 to 17th., and there have one day magic dealers' room with international magic props sales.
All the performances will have tickets open sale for public in URBTIX.
The Festival will have free seats for "LifeWire" arranged children in sharing the magic moments.