Magic Raiders' Winter Myth
Posted by admin in Activity on Dec 23, 2014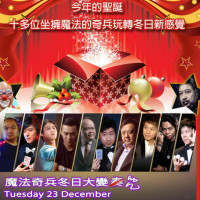 The 25th Anniversary of MAHK special magic show in "Magic Raiders Live" series was Closed the Curtain.
Magic Raiders leading by "Magic Master" Albert Tam, with "Dr. Alex" Alex Ng, "Gentleman" Kenneth Chan, "Andy Goh Goh" Andy Ko, "Boss" Clifford Chan, "Traveller" Daniel Chan, "Magic Hands" David Hung, "Aero Pong" Eric Cheng, "Childe" Fung Ip, "The Guy" Ivan Fung, "Money Fai" Fai Yu, "Clown" Wing Leung……
created a memorable magical night in last Winter X'mas.